Durango Bill's
Grand Canyon 3-D Tour
Salt Creek to Tincanebitts Canyon
Grand Canyon Miles 256 to 264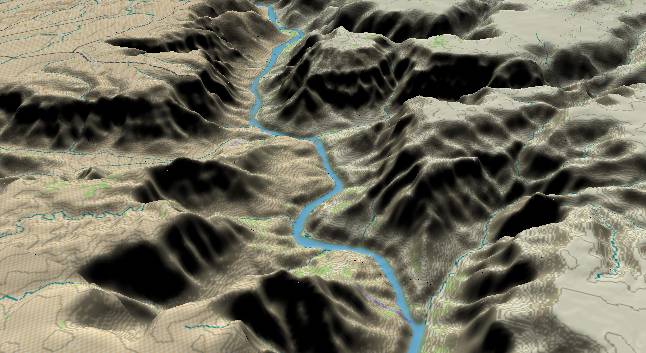 View to the north-northwest with Salt Creek Canyon in the lower right quadrant. Another fault crosses the Colorado River in the middle of the picture with Quartermaster Canyon to the left and Burnt Spring Canyon to the right.

Strata continue to slant downward to the north. The Precambrian metamorphic and Tapeats Sandstone layers still form a cliff next to the river at the lower edge, but these layers will drop down out of sight shortly after Quartermaster and Burnt Spring Canyons.

On the southwest side of the river there are extensive travertine deposits that have cemented erosional debris in place. Some of the travertine terraces appear very similar to those at Mammoth Hot Springs in Yellowstone National Park.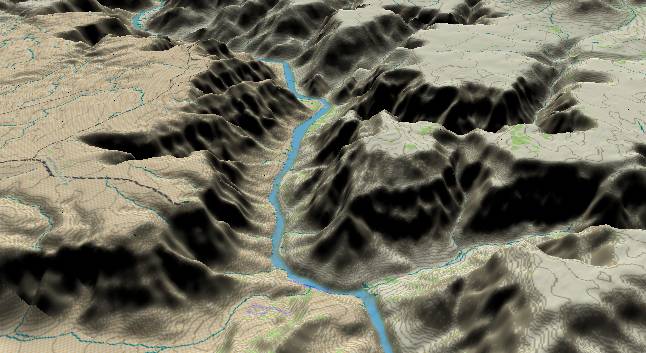 View to the north-northwest with Quartermaster Canyon in the lower left and Burnt Spring Canyon in the lower right. Tincanebitts Canyon enters from the upper right corner, and joins the Colorado just before the river turns left.
Lower Granite Gorge (the inner gorge) comes to an end when the Precambrian and Tapeats strata drop down below river level shortly after Quartermaster and Burnt Springs Canyons. The Bright Angel Shale has more sandstone in it than it does further east in the canyon. As a result its slope forming characteristics are not quite as pronounced, but it is still a contrast to the limestone and Supai cliffs that still rise more than 3,500 feet on both sides of the Colorado River.
The broken black line in the lower left is Quartermaster Road and provides a spectacular viewpoint of the lower canyon.
Return to river miles 248 to 256
Continue to river miles 264 to 272
Return to the Index Page for the Grand Canyon Tour
Web page generated via Sea Monkey's Composer HTML editor
within a Linux Cinnamon Mint 18 operating system.
(Goodbye Microsoft)