Durango Bill's
Patriot Bible University
Patriot Bible University is a typical "Unaccredited Bible School". If you just look at the online catalogue of any of these "Unaccredited Bible Schools", you might not get a true picture of exactly what they represent.
Kent Hovind listed Patriot University (now Patriot Bible University) as the source of his advanced degrees. Patriot Bible University is another religious school that is not accredited by either the U.S. Dept. of Education
(
http://ope.ed.gov/accreditation/Search.asp
)
or by CHEA (
http://www.chea.org/default.asp
).
Patriot Bible University has been authorized to operate in the state of Colorado (forced religious exemption?), but it does not have accreditation by the state of Colorado.
The Assessors Office for Rio Grande County shows "Patriot Bible University" has an area of 3,582 square feet (equal to a large single-family house), and it is owned by the Hilltop Baptist Church of Alamosa, CO.
http://64.234.218.210/cgi-bin/co_riogrande_display.cgi?KEY=1531067084&
Zaba Search (
http://www.zabasearch.com
) lists 1135 French St. as the residence of Lonnie Skinner. (Indicates that the Skinner family (Lonnie, Toni, and possibly Rachael) lives there.)
Here are three photographs/pictures of the current "Patriot Bible University" at 1135 French St., Del Norte, CO.
This is the northeast end of Patriot Bible University.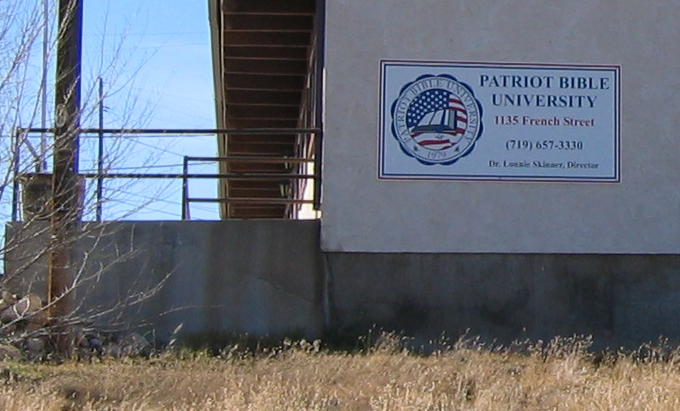 This shows the name "Patriot Bible University" painted on what used to be a former medical clinic.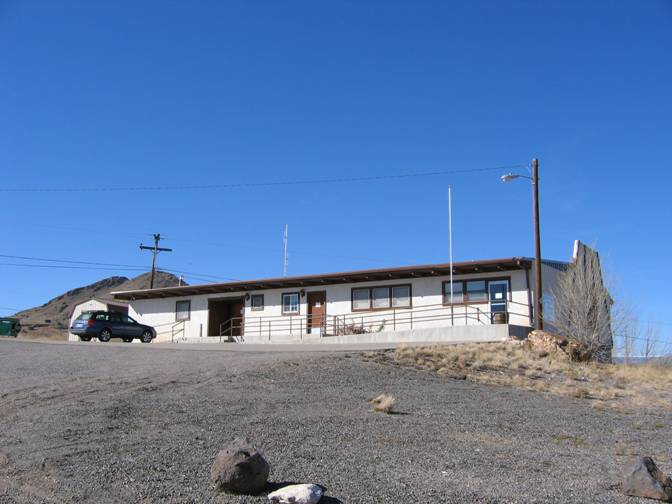 The southeast side of "Patriot Bible University" shows the parking area for the former medical clinic. The single car implies that Zabba Search may be correct in that it is being used as a residence.
The above photos were taken by the author from a car window on French St., Del Norte, CO on Nov. 22, 2006. They show what appears to be Patriot Bible University's "entire campus" in what was formerly a small medical clinic building. Permission is granted to everyone to copy/use them without any obligation.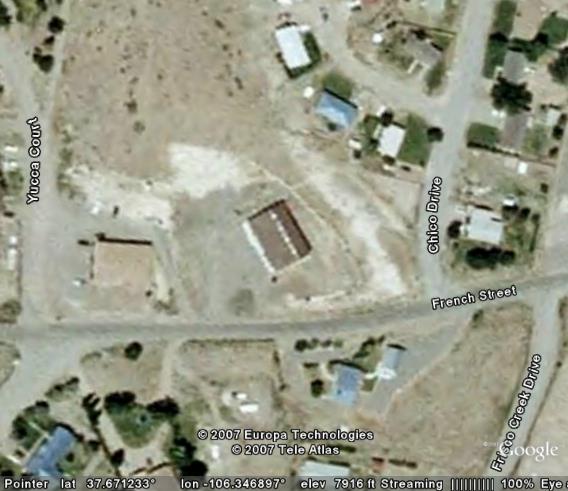 The picture above is a top down Google Earth view of what appears to be "Patriot Bible University's entire campus". (The single building in the center.)
The picture above is an updated Google Earth view as of 10/22/2011. If you compare this view with the last Nov. 22, 2006 photo by the author, not much has changed. The single dark blue car is parked in about the same place, the dark green dumpster (left edge of the 11/22/2006 photo) is still in the same place, the desolate landscape is still the same, Kent Hovind (see below) is still a guest of the Feds, etc. However, some of the trees and bushes have grown a bit. (Note: The building in the lower left corner is a small apartment complex that is not connected in any way with PBU.)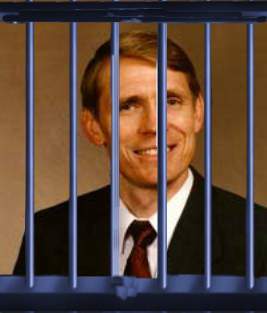 Patriot Bible University's most famous "Ph.D graduate" is Kent Hovind. And what was the skill that Mr. Hovind learned? Perhaps it's connected to the fact that he was convicted of 58 counts of tax fraud, and now has his room and board provided for ten years as "a guest of the Feds". The following is a quote from Patriot Bible University's catalogue:
"It was the study for my dissertation that opened so many doors of
opportunity for me to preach. Thank you for the work you do and the
program you offer. Had it not been for Patriot [Bible] University, I would
have had no way to even consider a degree. Plus, God has used you to
motivate me in a much needed field of study that has been a great help to
thousands of God's children as I have preached around the country."
Kent Hovind, Creation Science Evangelism, Florida
If you would like a copy of the original catalog, send me an E-mail and I'll return it with the document attached.
There's a great video spoof of Kent Hovind and his "alma matter" at
http://www.youtube.com/watch?v=KHTAU5Y3d1A
(Video is a "creation" by Iron Man Australia)
Teach Both Theories

The Creationists insist that we should always "Teach Both Theories". Thus the Print Screen image below presents Conservapedia's entry for "Patriot Bible University".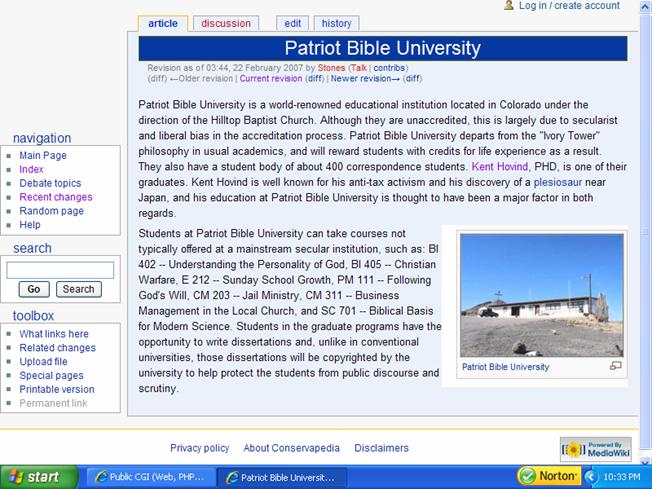 The above Print Screen image is what appeared at one time in Conservapedia. The text should be self explanatory. However, like most entries in Conservapedia, the text is subject to change.
Return to Durango Bill's home page
Web page generated via Sea Monkey's Composer HTML editor
within a Linux Cinnamon Mint 18 operating system.
(Goodbye Microsoft)